New M2000 Series Digital Power Analyzers offer precision Power Measurements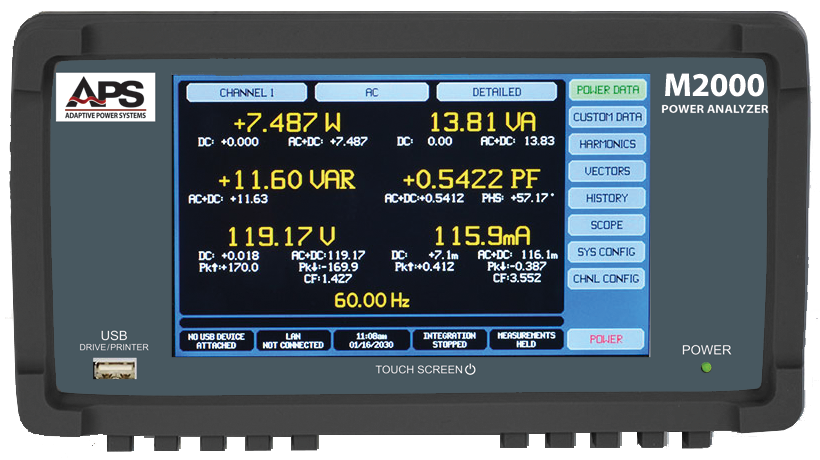 Irvine, CA, June 27, 2019 – Adaptive Power Systems Inc. (APS) is introducing a new, multi-channel digital power analyzer aimed at single and multi-phase AC or DC power measurements.  These new power analyzers address a wide range of product development and test needs for a wide range of consumer and industrial products as well as DC powered equipment and devices. The M2000 Series boosts a class leading base measurement accuracy of 0.03%.
Ease of Use
The new M2000 Series power analyzers offers a rather unique, fully touch screen operated user interface using a large color display. This large color graphics display supports rich data displays and on screen touch keys for settings and parameter entry.
The M2000 main frame has four slots that can accept any combination of two different measurement channels card types, one with internal current shunts and one with external shunt inputs for requirements over 20Arms or 20Adc.  For single phase AC or for DC applications, a single measurement card is sufficient. For three phase AC applications, three measurement cards are needed.  A fourth channel can be added to measure additional power connections.  Two of more M2000 can be synchronized to create higher channel count power analyzer configurations.
In addition to basic power measurement functions like Watts, VA, VAR, Vthd, Ithd and Harmonics of both Voltage and Current, the M2000 power analyzer offers special measurement modes and data display formats.  These include Scope mode, vector view, Standby Power per fEN50564:2011 and IEC 61000-3-2 and 61000-3-12 Current Harmonics.
A unique M2000 capability is the support for up to three virtual Power analyzer or VPA configurations, allowing channels to be shared between different VPAs. This allows for measurements on an EUT at various points between power conversion stages with a single M2000 unit as long as sufficient channels are available.
The M2000 power analyzer is housed in a bench-top chassis that can optionally be mounted in a 19" instrument rack requiring only 3U rack height. M2000 Series models are available from immediate delivery.
More Info
For additional information, contact Adaptive Power Systems (info@adaptivepower.com) or call toll-free +1-886-517-8400 (US) or +1 (949) 752-8400 for more information. Product information is available at www.adaptivepower.com .