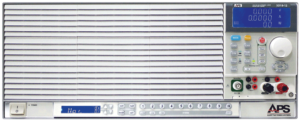 New LED loads simulate wide range of high power LED types.
Irvine, CA, March 24th, 2017 – Adaptive Power Systems Inc. (APS) is releasing two new high power electronic LED loads for LED lighting power supply development and test applications.  These new LED loads offer higher current capabilities than typically found on programmable LED Loads.
These new 5D LED loads support 1800W and 3600W power. These LED loads are capable of handling voltages to 600Vdc to support high lumen output long LED string requirements.  To support multiple parallel LED light string configurations, currents up to 24Adc can be supported.
These new LED loads have multiple voltage and current ranges for optional accuracy and resolution of both voltage and current over a wide operating range.  LED parameters such as Vo, Vd, Rd and the number of series LEDs per strings can all be set programmatically to simulate a wide variety of LED substrate materials.  Another unique feature of the Adaptive Power Systems LED loads is the pulse width modulation (PWM) control interface that allows LED dimming features to be controlled and tested by the load.  Many newer LED drivers support dimming and these new loads are ideally suited to support development and test of such capabilities.
Using a common user interface with large, easy to read LED back-lit displays and digital encoder data entry, the APS loads offer intuitive front panel operation on the lab bench or on the production floor. For automated production test, several control interfaces like GPIB or LAN are offered.
According to Michael Grant, sales engineer for Adaptive Power Systems, Inc.: "These new LED loads are a great addition to our existing AC Source and DC Power supply product lines.  With the addition of these four new models, we now offer the broadest selection of LED lighting loads for our customers."
For additional information, contact Adaptive Power Systems (info@adaptivepower.com) or call toll-free +1-886-517-8400 (US) or +1 (949) 752-8400 for more information. Product information is available at www.adaptivepower.com .