Lionheart Northwest will represent Adaptive Power Systems Load and DC products in the Northwestern US.
Contact:
Herman van Eijkelenburg
Director of Marketing, PPST, Inc.
herman.vaneijkelenburg@ppst.com
+1 (949) 251-1800 ext. 1440March 22, 2014
Irvine, CA – Adaptive Power Systems Inc. (APS) is pleased to announce they have signed a formal agreement with Lionheart Northwest to sell and support Adaptive Power Systems DC Loads and DC power products throughout the Northwestern United States. Effective immediately, Lionheart Northwest will market all Adaptive Load and DC power products for test and measurement applications to customers in their exclusive territory. The Northwestern territory encompasses Oregon and Washington State.
The arrangement encompasses pre- and post-sales application consulting services to ensure our customers obtain the most cost effective power solution that meets their technical requirements. Under the agreement, application specialists and sales consultants from Lionheart Northwest will work closely with the customer and engineers located at Adaptive Power Systems' headquarters in California to identify optimal solutions to DC power test requirements.
Products represented include Adaptive Power's new line of programmable DC and AC loads aimed at testing power supplies and batteries. APS loads are available in a wide range of power, voltage and current combinations. Also included is APS' extensive line of programmable DC power suppliers. These modern and energy efficient switch mode supplies offer excellent price performance.
According to Mike Knapp, national sales manager for Adaptive Power Systems, Inc., "We are pleased to be working with Lionheart Northwest. They are a well-established and professional organization with deep power application knowledge and several other complementary products lines to APS's portfolio."
About Adaptive Power
Adaptive Power Systems, Inc. (APS) has been providing innovative, dependable and affordable solutions for power test and measurement for over ten years. APS serves a wide variety of industries including Military and Defense, Industrial Products, Consumer Goods, Power Utilities, Alternative Energy, and Automotive and Transportation. Our customers include leading manufacturers around the world. Our focus is providing comprehensive power test solutions with the features and capabilities demanded by the many customers and industries we serve. Products lines include solid state AC Frequency changers, AC Sources, DC power supplies and Loads. Headquartered in Irvine, California, where it maintains its primary engineering and manufacturing facilities, Adaptive Power also operates customer service and support centers in Asia, Europe and other parts of the United States.
For additional information, contact Adaptive Power Systems at info@adaptivepower.com or call toll-free at +1 (886) 517-8400 or +1 (949) 752-8400 for more information. Product information is available at www.adaptivepower.com.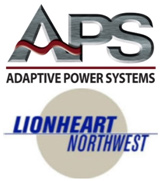 Adaptive Power Systems and Lionheart Logos