5VPxC Series Programmable DC Loads 0ffer High Speed Dynamic Modes and Master Slave Parallel Operation.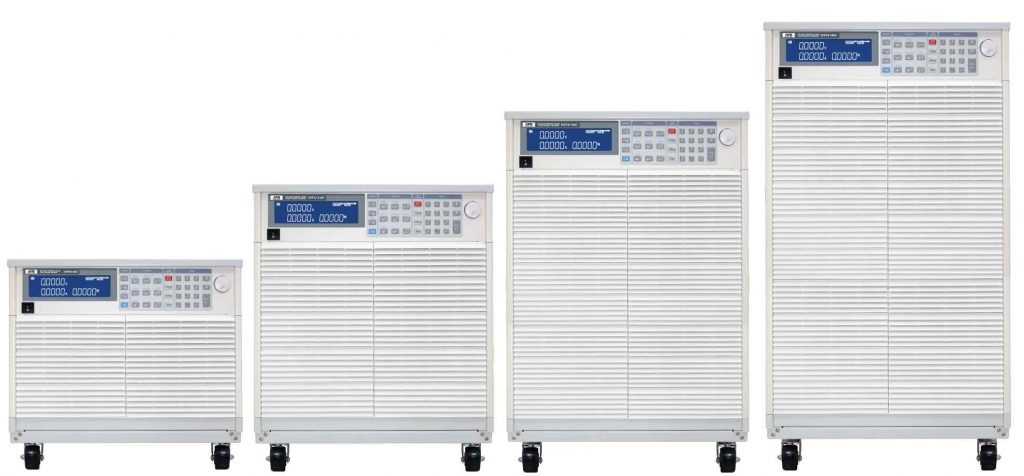 Irvine, CA, September 16th, 2020 – Adaptive Power Systems Inc. (APS) introduces a new line of high power, programmable DC Loads suitable for a wide range of DC test applications.  With individual 5VPxC loads supporting power levels ranging from 6KW to 24KW each, these loads can be can be paralleled to support higher current and power requirements as well.
These fully featured loads are targeted at the development and test of battery solutions for advanced electric drive trains.  The new 5VPxC Series of loads incorporate many of the test capabilities found in modern electronic loads and expands upon this by offering a suite of built in battery discharge profile functions. These discharge functions can be customized by the development engineer as needed and executed without the need to develop test software. Data on battery performance can be collected during these test discharge protocols.
Sporting a logical front panel layout with large, easy to read displays and a full numeric keypad for parameter entry, the Adaptive Power Systems 5VPxC Series loads offer intuitive front panel operation for both lab environments or production floor requirements.  For automated production test system applications, control interfaces like USB or LAN are supported.
The 5VPxC Series loads are available with 150Vdc, 600Vdc or 1200Vdc maximum input voltage ranges and all models offer dual range capability for enhanced resolution and accuracy.  Maximum DC current of 2000A is supported on some 5VPcC models. All models can be rack mounted in 19″ instrument racks or used as floor standing units that are easily moved using casters.
According to Eric Lord, Director of Sales for Adaptive Power Systems, Inc.: "These high power electronic loads are very cost effective tools for development and test engineering.  They represent a logical product line expansion to our existing AC Source and DC Power product lines.  With the addition of Master/Slave operation, we can now offer programmable DC load solutions as high as 192kilo Watts and 16,000 Amps."
For additional information, contact Adaptive Power Systems (info@adaptivepower.com) or call toll-free +1-886-517-8400 (US) or +1 (949) 752-8400 for more information. Product information is available at www.adaptivepower.com.